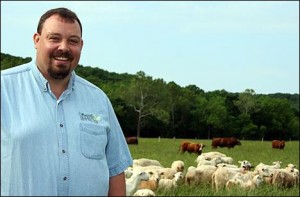 In July, 2011 we made the cover of Missouri Farmer Today!
Shared grazing working well
Bruce Shanks finds multi-species grazing works well at his farm in Osage County. MFT photo by Mindy Ward
Posted: Wednesday, May 25, 2011 12:00 am | Updated: 12:59 pm, Fri Jul 22, 2011.
Shared grazing working well By Mindy Ward, Missouri Farmer Today Missouri Farmer Today
BELLE — As the paddock gate swings open, a subtle hint of red and white slowly emerge from the lush green pasture at Sassafras Valley Ranch.  Bruce Shanks drives his all-terrain vehicle just a few feet and shuts off the engine. Slowly from one end of the paddock, white Katahdin sheep wander toward him. Then from the other end of the field, the South Poll bulls make their way to the vehicle.  Both species begin to rub the sides of the vehicle, clamor in the buckets and seek attention.  "We select for temperament," Shanks says. "Looks like we are doing pretty well on that front." Neither seems to be bothered by the other species. After a few minutes, the ewes and bulls wander off to graze together.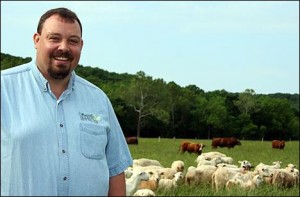 Shanks, who is an animal science professor at Lincoln University, has been implementing multi-species grazing practices at his Osage County farm for the past five years. He started with goats, but two years ago switched to hair sheep. "The sheep is my son, Paul's idea," Shanks says. "He actually owns all of them."  So far, the idea is working out well for both father and son. There are 115 ewes that intermingle with bulls, steers and cows on the farm. The farm is a complete grass-based system divided into 17 paddocks. Shanks rotates the groups according to forage load.  And what keeps the forage load balanced is the grazing of two species.  "The sheep really clean up the weeds," he adds. "What is left is fescue and clover for our cattle."
According to Jodie Pennington, small ruminant educator at Lincoln University, cattle are intermediate grazers. "They graze grasses and legumes and bite with their mouth and tongue," he says. "Sheep and horses graze closer to the ground than cattle." Sheep and goats eat forbs, which are brushy plants with a fleshy stem, and leaves better than cattle. Many weeds in a grass pasture are forbs. While Shanks turned to sheep in his system, Pennington says goats are also a good animal to use in multi-species grazing. "Goats are browsers and prefer to graze with their heads up," he explains. "Goats browse like deer if given the opportunity. They will eat higher-growing plants such as forbs and shrubs as well as high-growing grasses." Goats have a unique upper lip that allows them to strip bark off woody plants. Pennington says their unique lip allows them to eat the parts of a plant that are highly nutritious while leaving behind the less-digestible parts such as the thorns and branches of blackberries and multi-flora rose. "Both goats and sheep will eat weeds," he says. "Although goats prefer browse more than sheep."
According to research from the University of Tennessee, sheep graze 60 percent on grass, 30 percent on weeds and 10 percent on browse. Browse is shoots, twigs and leaves of trees or shrubs that are acceptable for grazing. Goats graze 20 percent on grass, 20 percent weeds and 60 percent on browse. Shanks found that to be true on his farm as well. "The sheep do like to eat the grass," he says. "But I don't mind. The sheep are actually making us money." He says markets have improved for sheep and goats in the state. "At $2 a pound, they are turning my forage into profit."
Like his cattle operation, Shanks also sells sheep as breeding stock across the country. Shanks specializes in hardy, low input breeding stock. "We are a complete grass based system for both sheep and cattle," Shanks adds. "The only thing we do is supplement with mineral and salt." Usually goats and cattle can use the same mineral unless there appears to be a health concern. However, sheep do not tolerate as high a level of cooper as do goats and cattle if the animals are being co-mingled. So, Shanks must mineral with lower levels of copper or none at all.
The rolling hills surrounding the 300-acre Sassafras Valley Ranch supplies ample variety of forage and feed for multi-species grazing. Pennington finds land that includes grasses, forbs and browse are best. "It is the combination of grasses, forbs and browse that provides for the more efficient use of multiple species for grazing, sometimes increasing meat production per acre by over 20 percent."Terrain also plays a role in this grazing system. Sheep and goats do well on steep and rough terrain. They also graze rough boarders around level pastures. Whereas cattle prefer to graze grass on more gently sloping land. However, varying terrain is also home to many predators.
When Shanks drove to the pasture and found a coyote in the midst, he was alarmed. The family had relied on a donkey for protection. Now they have two guard dogs. While predators may attack sheep or goats from the outside, these animals are prone to attack from this inside. One major problem many producers find with small ruminants is internal parasites. In Shanks experience, goats required more labor to keep parasites down. Because gastrointestinal parasites from goats or sheep cannot survive in the stomach of cattle and vice versa, multi-species grazing may decrease internal parasite loads.
Pennington says that the lower level of parasites should result in fewer treatments for worms. He adds that it could slow resistance of parasites to conventional dewormers, which is an increasing problem with small ruminants. "In a field infected with a high load of larvae from sheep and goat parasites, cattle should be grazed first to pick up the larvae of parasites," Pennington says. "Then goats or sheep can graze with less danger of parasite infestation." Some producers may prefer to have small ruminants graze before cattle, as most of the larvae of internal parasites are located on plants within four inches of the ground.
Shanks does not worm any sheep at his farm. "We select for those that are not predisposed to problems." He adds that buyers like the idea of not worming. "Low input, low maintenance, that is what our farm is about," he says. "We raise some pretty tough stuff here." Shanks says a good starter flock is key to success in multi-species grazing programs. "You need animals that require little attention, especially if you are a cattle producer focused on the cattle side. You do not want to add more labor to the operation."
As a cattleman, Shanks finds the program works. "It really creates a clean pasture, that is now full of clover and fescue," he says. "Plus the sheep are another income off of the same amount of pasture."
SaveSave