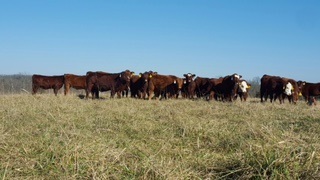 We also had a section in an article in the Cattleman's Advocate
By SUSAN DENKLER
Special to the Advocate 
    In the drive to build a better grazing animal for Missouri extremes in heat and humidity, certain cattle producers say just look to Alabama.
    Alabama?
   Yes, the southern state renowned for its cotton heritage, country music, and sultry temperatures is gaining a growing reputation among Missouri farmers for producing a breed of cattle known as South Poll.
   Dotting the summer slopes of Missouri farms in increasing numbers, these moderate-sized cows with the red hides and docile dispositions are uniquely suited to Midwest conditions, say their fans. And although South Polls are bred particularly with grass in mind, they're promoted as an efficient breed, adaptable to a wide range of management practices.
   Greg Judy, of Clark, Mo., is a man sold on South Polls, a composite of four different cattle breeds drafted for what each could contribute toward an animal-by-design.
   "Alabama's got poor soil and fescue, it's hot, and I thought, if those cows can do it down there, they oughta feel like they're on vacation in Missouri," said Judy.
   "They finally got a good composite breed and they're doing great. There's more South Polls in Missouri than any other state just because they perform so well here. We have a lot better soil than Alabama, which has been cotton-farmed out for centuries. Nothing's harder on soil than cotton farming. But in Missouri we still have a little bit of topsoil."
   Before he'd even heard about South Polls, Judy was "committed to building a herd of red-hided something" because he felt they outperformed blacks in summer heat. "On a hot summer day, red-hided cattle will be out grazing on the side of a hill when blacks are stuck underneath a tree."
   Greg had started building toward a herd of Red Angus when a friend pointed him to South Polls, a four-way cross said to combine the maternal abilities of the Hereford and Angus with the hardiness of the Barzona and the slick-haired heat tolerance of the Senepol.
   Judy's research led him to Teddy Gentry, of the music group Alabama, who started developing South Polls in 1985 after repeated hardships in getting other cows to thrive on his former cotton farm. According to the breed's history, Gentry began by crossing Herefords and Barzonas (which are themselves a composite, bred to excel in the high desert country of Arizona), and Red Angus with Senepols (developed on the Virgin Islands by breeding the native N'dama to Red Poll bulls). These two half-bloods were then mated to produce the four-way cross South Poll.
   "When Teddy started out in the cattle business in Alabama, anything he bought fell to pieces in that poor soil and fescue. So he decided to build his own breed," explained Judy. Gentry went on with a partner to build his Bent Tree Farms cattle experiment from hobby-farm status to what some now say is one of the premier breeding operations in the South and Southeast.
  A number of Missouri farmers are pleased to be the beneficiaries.
   Greg purchased 22 cow/calf pairs from Gentry in 2003, and today manages about 300 head of the South Polls, including bulls, 2-year-olds and yearlings. He lists their top four traits as "fertility, heat tolerance, their ability to perform on fescue clover pastures, and docility."
    Performance on grass is important to Judy, who in his farm career has gone from continuous grazing, to management intensive grazing, to mob grazing on mostly leased land. He formerly custom-grazed commercial cows and stockers, then switched to building his own herd of South Polls when he saw how well they performed in Missouri conditions. "They're perfect in a really nasty environment, and on Missouri grasses, I've not found another breed that will perform as well."
     He says their temperaments make them easy to handle. "You can walk through a herd of them and they won't even raise their heads."
   And producers prize their slick-haired coats. "They slick off real well, and the oilier the surface of the hair, the less flies are attracted to it. They don't suffer that way."
   South Poll producers say a big ticket item is the efficiency of these cattle, which when combined with their moderate size, gives managers more cows per acre and the kind of cattle that are more productive on that acreage.
   "Right now, we're not looking at downsizing like other producers because you can run more South Polls on the same amount of ground than you can those big 5 and 7 frame cows. And they're efficient. They put on a lot of fat. They just finish better than other cattle."
    Ralph Voss, who purchased his first five South Poll cows in 2003, now runs about 110 cows and 70 calves on his hilly Linn, Mo., farm south of the Missouri River.
    He said although South Polls have gained a reputation as being among the foremost breeds for the conversion of grass to beef, the cows are adaptable to different management styles.
   "Let me put it this way. South Polls are bred for grass. The name of our association is the South Poll Grass Cattle Association. It's the only breed in the country that's got that name.
   "And South Polls hold a lot of grass. They're a cow that's deep, not terribly tall, something with heart girth – and with that great big barrel chest, you don't have to put something into them like corn.
   "But we have people we sell calves to, and some finish on grain and some on grass, and they do well on both. It depends on what your customer wants. At the same time, the shorter South Polls won't take nearly the amount of grain as larger breeds, and a lot less as a percentage of overall weight gain."
   Voss considers the breed's smaller frame an advantage.
   "I'm absolutely sold on moderate size. A cow of 1,020 pounds is my favorite. Mine are at 1,200 or better average, and I'm trying to reduce the size. I'd much rather have them at 1,050 to 1,100 pounds.
   "The calf out of a 1,500-pound cow is never going to be 50 percent bigger than the calf out of the 1,000-pound cow. In fact, I had a (South Poll) cow two years ago that weighed a little over 1,000 and she produced the biggest bull calf in my herd, at 580 pounds."
   Judy sees the same principle at work.
   "Our history has shown us, if you get the cattle too big, they don't do well in a grazed program. You can't get enough grass in those large animals. There's a lot of people starting to wake up and deciding big cows will bankrupt you. The bigger you get them, the less money you have left in your pocket, and that's just the simple truth. Big cattle take almost a third more feed, and I mean grass, hay, grain, whatever."
   Judy and Voss are both pleased with the way South Polls breed back, although they point out producers must cull poor performers out of any herd. And Voss praises the way the cattle perform during his May-into-June calving season.
   "I used to calve in January and February, and then we'd have a cold snap and lose a lot of calves. I've lost entirely too many calves (that way), and that's all kinds of cows.
   "One advantage to South Polls is you can have a calf born the 20th of May, and it's plenty warm, there's plenty of grass, and the calf does well. And we don't wean our calves in the fall; we wean them the following spring. The calf does better, it doesn't seem to hurt the cows, and you have a nice, big calf."
   Voss also points to the longevity factor in these cattle, saying the numbers can be amazing. "I've seen Teddy Gentry's cattle, and I've seen 15- and 18-year-old cows still calving and doing well."
   With all these positives, South Polls may cause some to wonder if they have any drawbacks. In fact, Voss can think of very few.
   "Right now the red suffers a little in calf prices. If you're selling feeder calves, blacks may bring a little more than the red calves, but as time goes on, I think that's going to change.
    "I know there's not enough of them. People would love to have more."
   Voss and Judy sell a number of South Polls, mostly bulls, to those wanting to get started or enhance their herds. "Demand for heifers is high. There's a few heifers scattered around the country. If people will let us know what they want, we'll take a look around and try to find them," Voss stated.
Bruce Shanks, of Belle, Mo., markets South Poll bulls from his 300-acre ranch southeast of Jefferson City. He shares bulls with other breeders when possible and also has semen available.
   Shanks began with the purchase of a small herd from Alabama, added other cows and bulls as he could, and expanded internally to produce a herd that now boasts about 130 breeding females. He believes the rising costs of inputs and the current state of the economy are factoring in to the demand for South Polls, adding that the price of females generally runs from one to three times the price of commercial cows, while bulls can be had for prices similar to that of other cattle.
    The stalwart breed that originated in the heat of the deep South can now be found scattered across the U.S. and as far north as Minnesota. The South Poll association producers map shows them mainly clustered in Missouri, Iowa, Kansas, Illinois, Kentucky, Tennessee, North Carolina, Alabama, Georgia, Texas, Louisiana and Florida.
    Growing interest in the breed was apparent June 20 at Judy's farm where he hosted over 300 farmers from 22 states for the South Poll association's first annual field day.
   "People wanted to physically see what they looked like, hear how they were developed, and see our pastures and grazing system," said the association vice president. "We had pens of South Poll bulls and heifers on display as well as cow/calf pairs, and people got to see firsthand our own experience with them. We also did a paddock move. That was a hit."
   While it currently may be difficult to find South Poll heifers, "We're telling people to get their hands on some South Poll bulls, breed them to your cows, then keep their daughters and breed them back to South Poll bulls," he said. Through line breeding you can "build consistency into your herd. We've been doing that for seven years now and are really starting to get some beautiful heifers."
   For those who missed the field event but would like to know more, Greg said a visit to the association's website at www.southpoll.com is a good start. Other guidance, including sales information and a list of co-op breeders, is available at Gentry's website at www.benttreefarms.com.
   The best way for producers to learn more about South Polls may simply be to jump in and try them out for themselves, Judy advised.
   "I tell people to get a few, try them, and compare them. See how they perform against what you're doing. You may just want some more."